Everything You Must Know About Hyperautomation in 2022!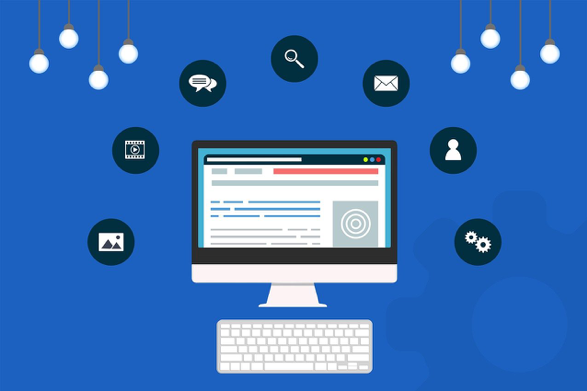 Organizations around the world want only one thing, and that's to minimize costs, improve efficiency, and increase profits. Technically speaking, all of this is possible if the majority of the labor-reliant processes are automated through the use of the latest technology and modern digital advancements. To compete and succeed in the modern economy, businesses have to remain more efficient than before. It's possible through hyperautomation.
Hyperautomation refers to transforming and automating most of the business processes to enable higher productivity and efficiency. Hyperautomation is a concept that utilizes multiple technologies to present a unified approach towards greater-level process automation in a business. Here's what every business must know about hyperautomation, what it is, and its benefits.
What Does It Mean by Hyperautomation?
In simple words, hyperautomation refers to the use of automation technology on a wide scale across an entire organization. It's the strategic automation of nearly all major processes within a business to eliminate manual intervention at all points possible. Hyperautomation also refers to the use of robotic process automation, machine learning techniques, and large-scale artificial intelligence implementation.
The major benefit of hyperautomation is that it allows organizations to operational efficiency and cost-effectiveness by eliminating all possible instances of manual intervention and processes.
What's The Importance of Hyperautomation?
Hyperautomation is very real because it allows businesses to get ahead of the competition in terms of costs, operations, and delivery. Through automation assisted by modern technology, businesses can find a way out of the resources-starved environments. Whether you automate a part of your organization or all of it, you can still benefit from hyperautomation.
It's a real concept that's already underway across major industries globally. Since the pandemic has struck and workplaces have become hybrid (allowing remote work), hyperautomation has been a hot topic.
What Drives Businesses Towards Hyperautomation?
There're several reasons why organizations are trying to get on the "hyperautomation" wagon. Here's why:
Keeping up with modern demand increases
Employee ambition and curiosity
Obsolete operational methods and techniques including inefficient processes
Consistent production
Reduced manual errors
Elimination of human failures/ quality disruptions
Regulatory compliance
What're the Benefits of Hyperautomation?
As businesses overextend and try to grab more advantages of the modern technology, hyperautomation allows them to achieve various accomplishments. Here's how hyperautomation helps organizations:
Increase in automated processes to reduce manual labor and increase efficiency as technology doesn't require breaks.
The use of digital technology on an increased scale across the organization makes it potentially more efficient in its operations.
The latest technology enables the generation of helpful and valuable insights to reduce human error, improve product/service quality, and help with faster delivery to consumers/users.
It helps in informed decision-making by providing rich and valuable insights by assessing and analyzing previous data.
Hyperautomation offers lots of operations including the ones above for modern businesses. However, it befalls on organizations to implement and carry out automation tasks to become efficient.
Conclusion
Hyperautomation is no longer a choice but rather a priority for most businesses, especially those affected the most by the Covid-19 pandemic. To make organizations more effective at delivering products/services on time, hyperautomation involves the use of all the latest tech. Through effective implementation, hyperautomation can set the stage for unexpected growth for potentially any type of business.